Episode 30: When Everyone Needs Sleep with Kristjana H.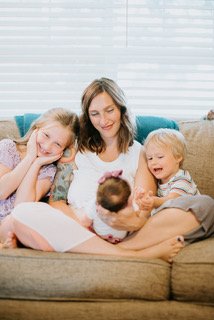 EPISODE 30 THE PARENTING MENTOR: When Everyone Needs Sleep with Kristjana H.
Kristjana has three kids. The second used to be a great sleeper, but since moving to a toddler bed, his sleep is much more sporadic, and bedtime often results in tears and fighting. Kristjana just wants a good night's sleep for her son and herself.
Today, we talk about how Kristjana can make the most of bedtime and let her son know that she wants to be with him and that he's always welcome to join his parents next to their bed. We talk about the power of a sleeping bag, and we discuss how Kristjana can make bedtime more relaxing for her son. We also talk about how to transition to life with a new baby.
"It makes a difference when you tell your child that being with them and playing with them really matters to you." 
- Sue Groner 
This week on The Parenting Mentor:
Making bedtime relaxing
The importance of preset guidelines
Adjusting to a new youngest child
The power of a sleeping bag
The importance of letting your child know you want to be with him
Meet the Parenting Mentor
If you want to reduce the everyday stress and anxiety that inevitably come with parenting and learn to be a happier and more relaxed parent, then this is the place for you.
Here, you can listen in on real sessions with parents who open up about the specific challenges they face with children from 2 to 22. Listen along and gain perspectives and strategies to help you parent with sanity and joy.
Don't forget to pick up my book, Parenting with Sanity and Joy: 101 Simple Strategies, which includes my Nine Golden Rules of Parenting.
If you enjoyed this episode, please subscribe and leave a review wherever you get your podcasts!